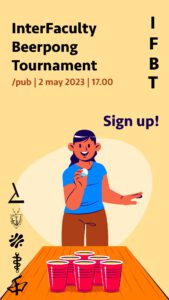 Join us on the 2nd of May in the /pub for the InterFaculty Beerpong Tournament! Here teams of max 4 people will battle each other in this beautiful game. So come test your skills with your best teammates!
The event will be together with Life, Froude, Variscopic and ETV.
The spots are limited, so don't forget to sign up! Only the teamcaptain needs to fill in this form, this person will receive all the information via email.