When you as a student experience inappropriate behaviour (like discrimination, (sexual) intimidation, stalking, violence or bullying), or feel like you need to get something off your chest, you can confide in the confidants. They are there for you to talk to and be a listening ear. In addition, the confidants may provide options for follow-up discussion with the proper help channels. The confidants are sworn to secrecy, thus anything you wish to discuss with them will remain confidential. Hooke has two confidants and they will introduce themselves below.
Eva Pistone
Hey everyone!
My name is Eva and I am in my fourth year of the Nanobiology bachelor. I like bouldering with friends and baking all kinds of sweets. As one of Hooke's confidants, I hope to be able to be a listening ear for everyone that needs it, so please don't hesitate to contact us!
Francesco Guido Vinzoni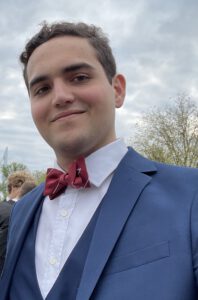 Hello everyone,
My name is Francesco. I am an international student from Italy and I have been studying Nanobiology for the last three years.
I am one of the two Confidants of Hooke and I will be joining you during IntroN.
I am always open to chat, and of you decide to you will find I am a bit of a nerd, a guitar player and a very passionate cook.
In the last years of study I have been lucky in finding people who appreciate me (and the food I prepare for them), and I have come to realize that all students in Nanobiology have different situations they need to deal with, ranging from the bureaucratic to the personal challenges. Throughout the academic year I will be available to chat and discuss with you about any situation in absolute privacy.
I am looking forward to meeting you!
Eva can be reached through confidant-hooke@tudelft.nl
Francesco can be reached through confidant2-hooke@tudelft.nl