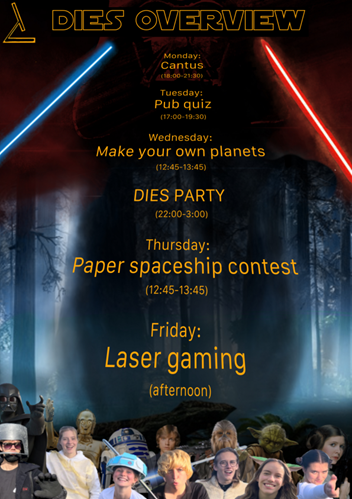 On the 20th of November, S.V.N.B. Hooke becomes 9 years old! Because of that, ATP9 is organising the Dies Week from the 20th until the 24th of November. This entire week will be filled with activities, related to the theme: Star Wars – The Last Schulti. You can see an overview of all the activities on the poster on the right and a description of all activities below. Buy a passe-partout via the link below!
Buy a passe-partout here to join the activities for a nice discount. The big ones are sold out but there are some small passe-partouts left!
Get your Dies party tickets (also for non Hooke members!) here.
Cantus on Monday: 18:00-21:30 at Scouting Nautilus in Delft. A cantus is a big singalong, a fun tradition amongst students!
Pub Quiz on Tuesday: 17:00-19:30 at Bar het Lab in Delft. Join this pub quiz to find out if your team is the smartest, answer questions about different fun themes to find out.
Make your own planets on Wednesday: during the break, 12:45-13:45 at Bar het Lab in Delft. Come decorate your own planets! We'll take care of enough arts and craft supplies for you to show your creativity.
Dies party on Wednesday: 22:00-3:00 at the Bierfabriek in Delft. Dance the night away with all your friends in the Bierfabriek while enjoying music from DJ PJ and DJ Jeurs, you cannot miss this!
Paper spaceship contest on Wednesday: 12:45-13:45 at Bar het Lab in Delft. Make your own paper spaceship and show you master the technique required to make the best paper spaceship out there.
Laser gaming on Friday: 15:00-16:00 at Lasergame Rotterdam. Show your skills and fight against each other in an exciting game!